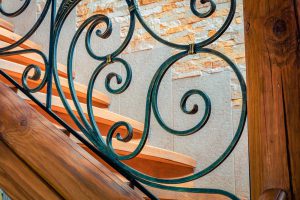 Many years ago, a professional blacksmith would iron wrought (work) this low carbon content iron alloy known as wrought iron by hand. Wrought iron is easily welded, corrosion-resistant, malleable, and tough.  Its contents include minor amounts of manganese, silicon, phosphorus, and sulfur. This material is commonly utilized in the construction industry in Chicago and is popular for items such as handrails, iron railings, sculptures, garden furniture, an iron fence, or an iron gate
What Advantages Does a Wrought Iron Fence Provide?
The creative possibilities for wrought iron use are infinite. It is especially popular for gates and fences as it is recyclable, rust-resistant, and durable. Wood and wrought iron are two elements that blend well. The wrought iron provides a wood fence with sophistication and elegance. The incorporation of wrought iron into your home's exterior or interior design adds both grace and value to your property.
What is the Lifespan of a Wrought Iron Fence?
Wrought iron consists of a blend of aluminum and steel, creating a special fibrous structure that makes a wrought iron fence incredibly sturdy and gives it a longer life expectancy.  Wrought iron can be maintained easily and resists rust despite the rainy climate in Chicago. A good railing contractor will suggest the occasional coat of paint for your railing or fence, keeping it attractive for many more years.